There are six factors to check before buying a laptop. As the staple for both business and entertainment, the laptop is also a go-to for many specialized tasks. Combining, and often surpassing, the power of the desktop with portability, laptops are indispensable to many professionals, gamers, programmers, and Internet addicts. Depending on your computing needs, there are several factors to consider before deciding which laptop is best suited for you
PERFORMANCE OF LAPTOP
Performance should be one of your key criteria when looking for a laptop. The key is to match your computing needs with the kind of power you're looking for. The performance capability of your laptop depends on the following aspects:
PROCESSOR OF LAPTOP
Choosing a laptop is hard enough and the confusion created by the sheer number of processor models and names only makes this a harrowing process. Why can't choose a laptop based on processors be any simpler? That's easier said than done, but if you're armed with the right information, you can go from being a clueless laptop buyer to an expert on the subject. This article is dedicated to doing just that – demystifying, organizing, and telling you just what you need to know – what's the processor your next laptop ought to have, what it's good for, and what it isn't.
Why are buying processors so important? As we're told repeatedly, they are at the heart of any device so they must be critical. It's true – the faster the processor, the better your games and software will run. Rather than getting into the fine details of every processor, it is easier to try and imagine what software and games you wish to run. Depending on what you use the most, you should be able to pinpoint the laptop and processor that suit your needs.
This table should give you some idea of what processor you might need at the very least to let the software run smoothly. We aren't talking about graphics cards in this feature but it is an important part of buying any laptop too. We have a feature around laptops graphics solutions.
| | | |
| --- | --- | --- |
| Activity | CPU-intensiveness | Processor Family and Series |
| Browsing and chatting | Low intensity | Intel Celeron, Intel Pentium, Intel Core i3, AMD A4, AMD A6 |
| Streaming and watching content | Low intensity | Intel Core i3, AMD A8, AMD A9, AMD A10, AMD Ryzen 3 |
| Office work | Average intensity | Intel Core i3, Intel Core i5, AMD Ryzen 3, AMD Ryzen 5 |
| Programming | Average intensity | Intel Core i5, Intel Core i7, AMD Ryzen 5, AMD Ryzen 7 |
| Gaming | High intensity | Intel Core i5, Intel Core i7, AMD Ryzen 5, AMD Ryzen 7 |
| Designing | High intensity | Intel Core i7, Intel Core i9, AMD Ryzen 7 |
One must remember, is that a faster processor is generally a better idea. Even if you are someone who wants to use the laptop for just browsing web pages, watching some videos on YouTube, a faster processor won't make that experience a lot better today, but years from now when browsers and other software are more processor-intensive, you won't need to upgrade to a newer laptop sooner. That extra money spent today will last you longer. It's important to remember that laptop processors can't be upgraded like you can on desktops.
If you've made sense of the table, you can also visit Intel and AMD's websites where you can find specifications for the latest models within the families of products we've mentioned above.
Faster core speeds don't mean a processor is always faster
Back in the day when processors could be identified by their core speeds, things were simpler. You would know that a 2 GHz processor was faster than a 1.4 GHz one. It's important to know that it isn't the rule anymore. You will find high-end laptop processors clocked at lower speeds than entry-level ones running at 3.2 GHz or so. This is due to several factors that go into the processor such as the number of cores, the optimizations, amount of cache, etc. The basic rule is the faster core speed, may not always translate to better performance. The families and ranges are a better indication.
What do you get when you spend more on a laptop?
Number of cores
You'll find the term, cores being thrown around everywhere in smartphones and laptops. The number of cores is usually decided by what series of processors you're looking at. Intel's entry-series of core i3 for example come with a 2-core configuration. 4-core, and sometimes, 6-core processors can only be found on core i7 or Intel Core i9 processors. The number of cores allows software with multiple threads to run faster. Some brands might have entry-level processors with many cores but they aren't always as fast as high-end processors with fewer or the same number of cores. The pricing of laptops generally corresponds to the performance their processors offer.
RAM
The amount of RAM decides how smooth and lag-free an experience you get on your laptop. The higher the amount of RAM
the better it is. However, here's an indication of what you can expect from laptops with varied RAM configurations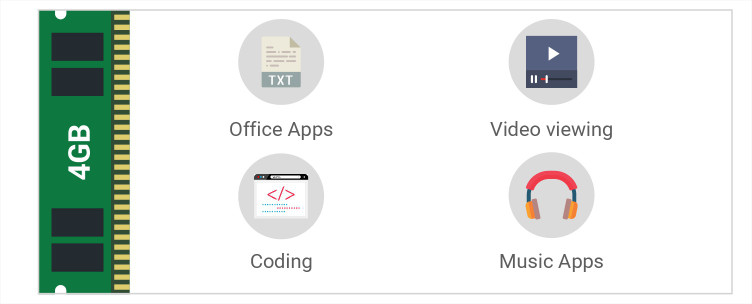 We suggest a minimum of 4GB RAM for a lag-free experience across daily used applications like office apps, browsing, video viewing, etc.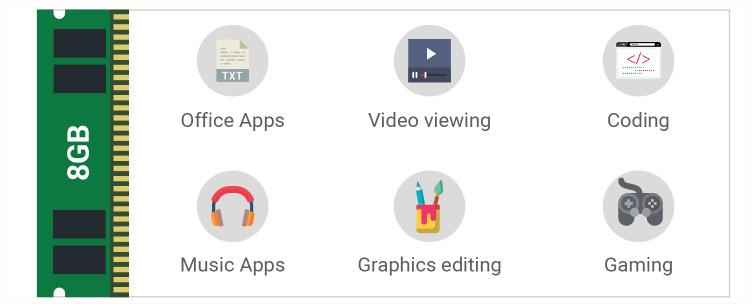 This is where you get some extra headroom for smooth multitasking, using heavy applications like image editors, and even running the latest games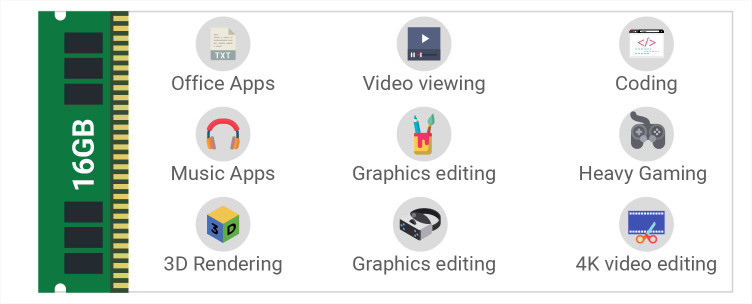 From high-resolution video editing to intensive gaming and graphics designing. 16GB of RAM will let you do it all without any stutters.
GRAPHICS AND GAMING
When looking for gaming laptops, the graphics processor (also referred to as GPU or graphics card), plays a key role. Having the latest series of dedicated graphics processors ensures the best gaming performance.

Choosing the Ideal Graphics Card
| Usage | Ideal Graphics Card |
| --- | --- |
| Everyday use: browsing the web and multimedia | Gaming and image editing |
| Gaming and image editing | Dedicated 1 GB |
| Advanced gaming experience or video editing | Dedicated 2 GB |
| Professional gaming, animation, 3D rendering | Dedicated 2GB and above |
Add to Product Finder: Integrated Graphics Card 512 MB 1 GB 2 GB 3 GB 4 GB 6 GB 8 GB 16 GB
STORAGE
Selecting the right amount of storage capacity for your laptop depends on storage space requirements and the speed of storage. Here's a quick guide on the various storage capacities and how much content they can store.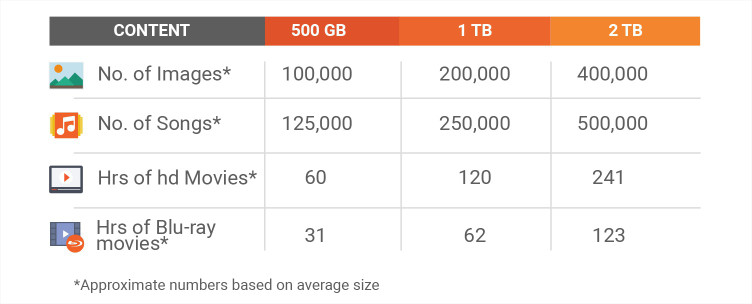 Add to Product Finder:
32 GB
256 GB
320 GB
500 GB
512 GB
750 GB
1 TB
2 TBWHO SHOULD CONSIDER SSDs
SSD-storage-based laptops offer low storage capacity, but they offer 5x the performance benefits in comparison to standard HDD-based storage. Consider SSDs when:
Working with large files (>1GB)
Want a laptop that boots up quickly
Don't need a lot of storage space
Looking for a pure performance laptop
STORAGE TYPE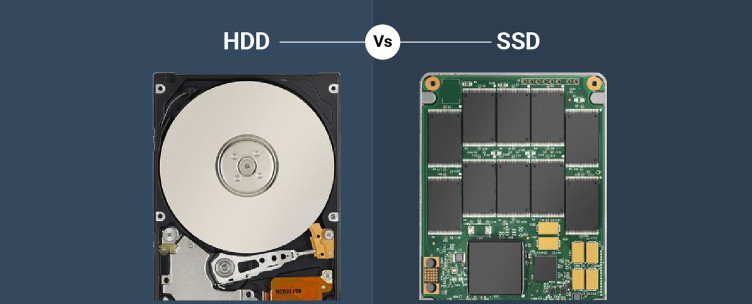 | HDDFORM | SSD |
| --- | --- |
| Stores data on magnetic discs | Stores data on memory chips |
| Available in higher capacity | Comparatively available in lower capacities |
| Moderate in data transfer | Faster in terms of data transfer |
| More power consumption | Less power consumption |
| Cheaper when it comes to per GB cost | Expensive on per GB cost. |
FORM FACTORS
Should you get a lightweight laptop or opt for a fully loaded (and heavy) performance machine? Well, it all depends on your primary usage. Here's a quick look at various types of form factors and what they bring.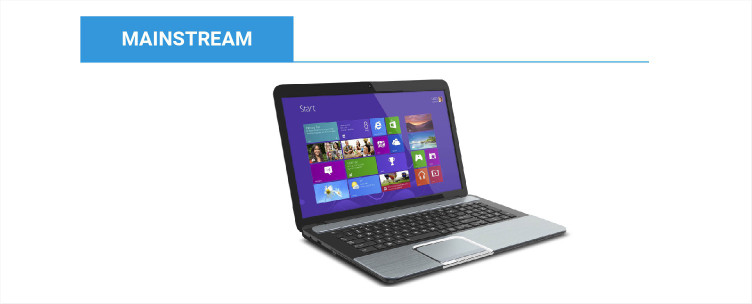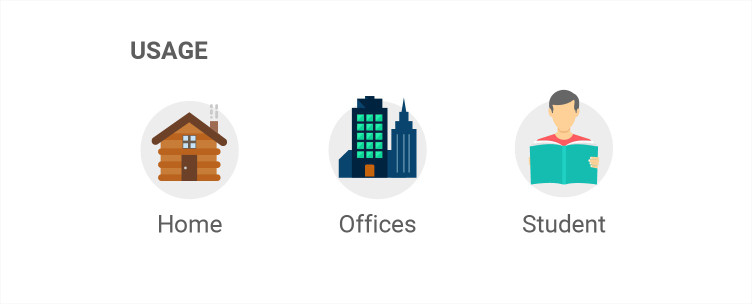 WHAT THEY OFFER
Balance of performance and features
Good value for money
Easy upgrade-ability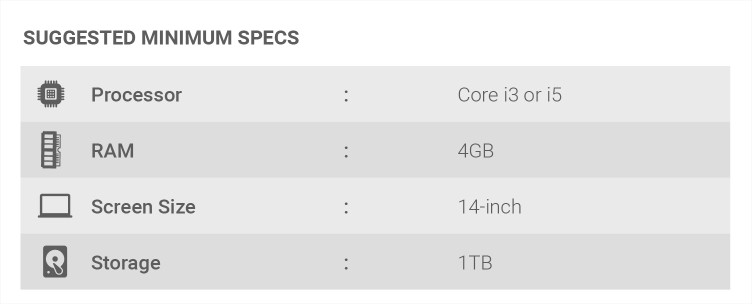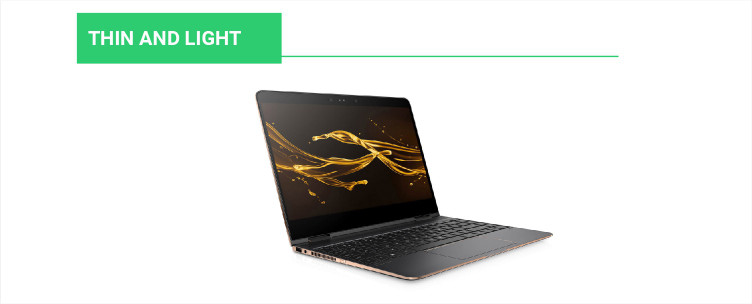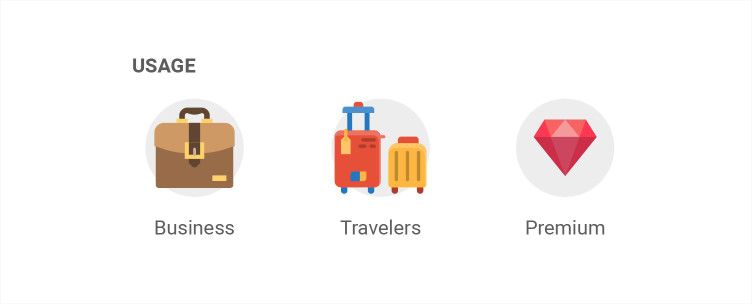 WHAT THEY OFFER
Battery life
Premium design and materials
Slim looks & light weight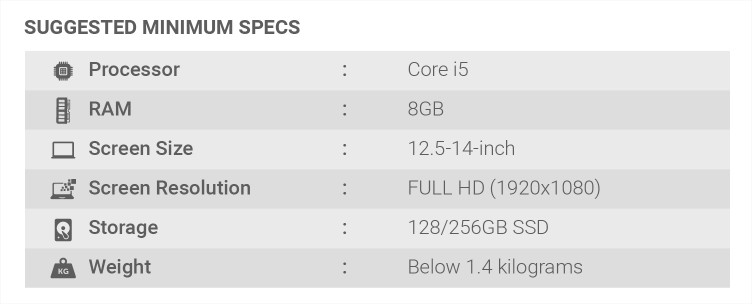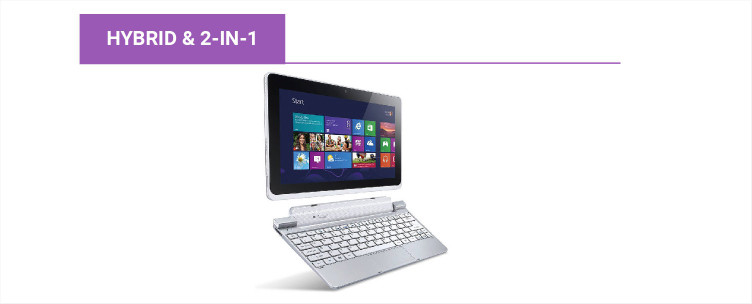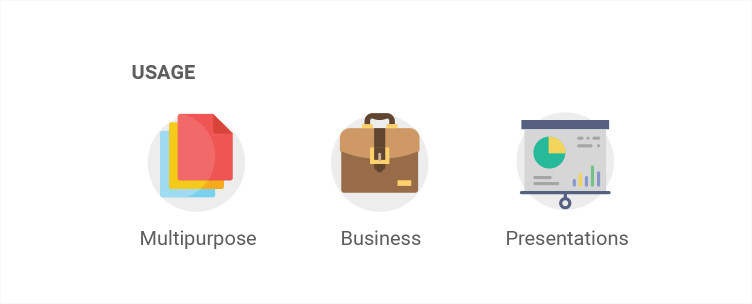 WHAT THEY OFFER
Touchscreen
Lightweight
Compact
Battery life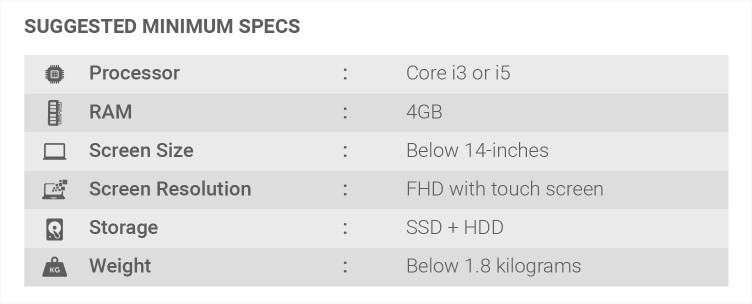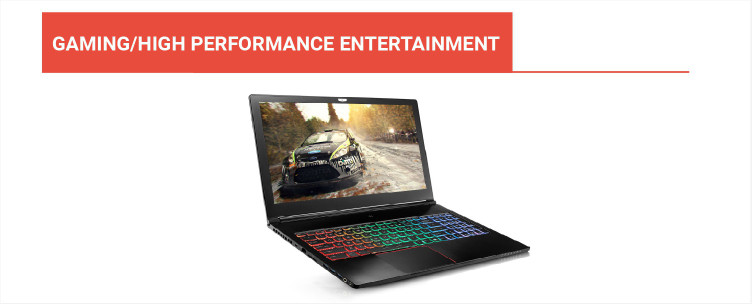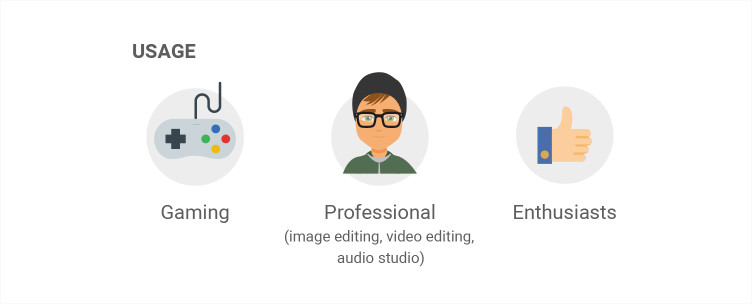 WHAT THEY OFFER
Top-class performance
High-resolution display
15.6-inch and above display size
Weighs 2.7 kg and above
Powerful discrete graphics processors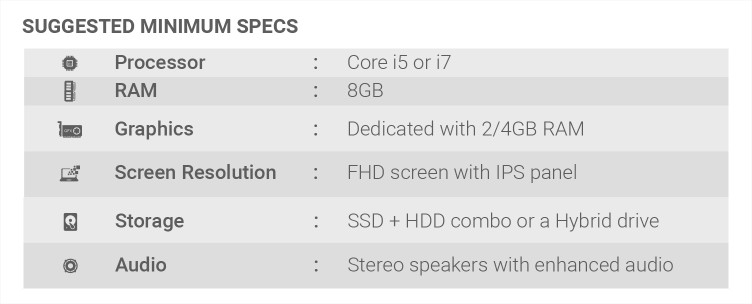 DISPLAY
When it comes to laptop displays, the display size and resolution are the key factors that one needs to consider.RESOLUTION
The higher resolution allows you to fit more content on the screen while making content (text and images) sharper and more pleasant to the eye.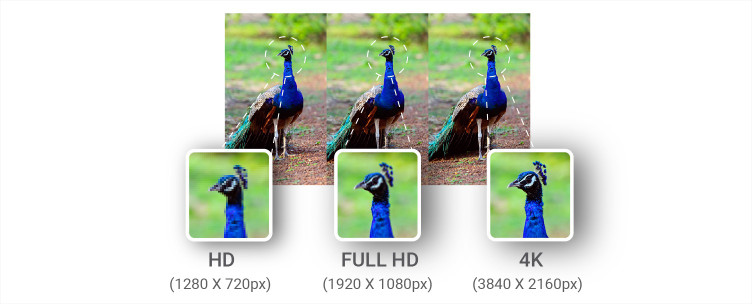 HD RESOLUTION
Offers 1280 x 720 pixels
Found in entry-level laptops
Good for basic tasks
FULL HD RESOLUTION
Offers 1920 x 1080 pixels
Found in premium and gaming laptops
Good for entertainment and productivity apps
4K RESOLUTION
Offers 3840 x 2160 pixels
Found in high-end laptops
Consider it if you watch a lot of 4K content
DISPLAY SIZE
Finding the sweet spot which offers the desired level of portability while offering an adequate amount of screen real estate is the key to determining the screen size.CONSIDER 13.3-INCHES OR LOWER DISPLAY SIZE
If you plan to travel frequently
When looking for a lightweight laptop
Primarily use the laptop for office applications
CONSIDER 14-INCH DISPLAY SIZE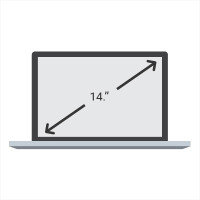 Perfect balance between screen size and portability
Mixed usage of office applications as well as entertainment
Optimal performance and storage space
CONSIDER 15.6-INCH DISPLAY SIZE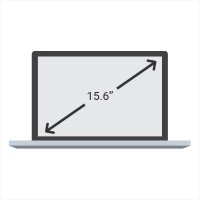 Entertainment-oriented Laptop
Portability is not too important for you
More USB ports and an optical drive
Add to Product Finder:
Below 12 inch
12 inch – 12.9 inch
13 inch – 13.9 inch
14 inch – 14.9 inch
15 inch – 15.9 inch
16 inch – 17.9 inch
18 inch – 20 inch
Above 20 inch
OPERATING SYSTEM
An operating system manages the hardware and software resources of a computer, while also providing common services that are essential to all software on the system.
Mac OS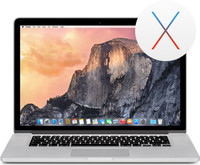 Great user interface
Applications run without lag
UNIX-based code makes the OS more secure
Apps are malware and virus-free as they are curated by Apple; limited choice of apps
Windows OS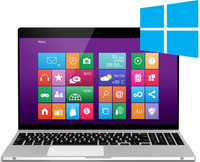 Most popular
Compatible with most hardware and software
Supports third-party programs
User interface can be customized
Easy to multitask using multiple windows
Try apps and software before buying them
Share data across all synced, compatible devices
Enhance, edit and organise photos
Access systems using virtual desktop
Features Cortana, the personal assistant with voice recognition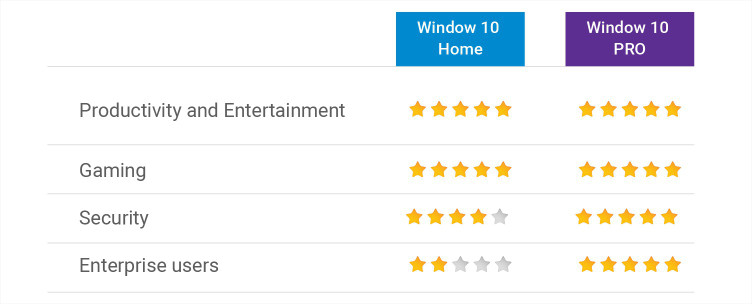 UBUNTU & DOS
Laptops that ship with Linux-based, open-source, operating systems or DOS operating systems are suitable for programmers and coders. Ubuntu is the most popular Linux-based operating system that has an appealing graphical user interface. Laptops that come with Ubuntu can be used for basic applications like web browsing and media consumption.
Chrome OS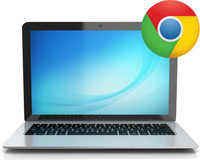 Available only on Chromebooks
Apps can be added through the Chrome Store
Web-based
Mostly free applications
Google has announced Google Play Store will be added to all Chromebooks by 2016
Features Google's built-in malware and virus protection
Add to Product Finder:
Android
Chrome
Endless
Linux/Ubuntu
Mac OS
Windows 10
Windows 7
Windows 8
Windows 8.1
OTHER FEATURES
TOUCHSCREEN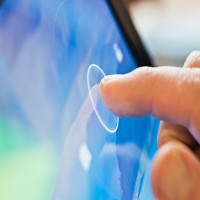 Touchscreens make computer interfaces simpler. Just as you would on a smartphone, you can tap to select, hold and drag to move items, swipe to scroll, and pinch to zoom.
This feature is currently available on a few Windows laptops and a few Chromebooks.
FAST CHARGING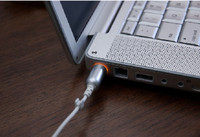 A useful feature when you need to charge your laptop in the least amount of time.
BACKLIT KEYBOARD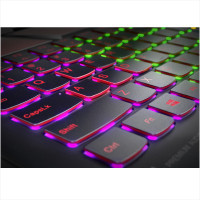 Makes typing easy when using the laptop in low-light environments.
ULTRA SLIM BEZEL DISPLAY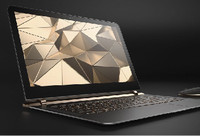 Provides a larger screen in a smaller form factor. It looks good as well.
USB TYPE-C PORTS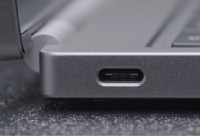 The latest connectivity makes for fast data transfers with external storage devices.
FINGERPRINT READER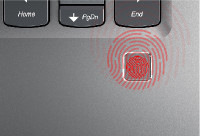 Fingerprint-based login is useful when laptop access and security are a concern.